Journal: The Kangaroo and the Rising Sun
When the japanese occupied Dalian, more than 50 years ago, they called it Dairen. Today, Japan has major economic interests vested in Dalian, and many of the factories in the development zone are japanese: Toshiba, Konica, etc.
In the foreign languages department of my college, half the students major in english and half in japanese. And japanese foreign teachers outnumber english ones. I suppose that japanese people living here would receive less stares than "foreigners" (when chinese use that word, they often have the idea "foreigners of non-asian appearance" in mind), but I don't think I'd feel very comfortable in China if I was japanese. I think that hating capitalists has basically fallen out of fashion, but all too many people will eagerly state "I hate japanese" if the conversation veers within a half mile of that topic. It was refreshing to hear one of my students say that he felt that way when he was younger, but has now realised that not all japanese are bad. (I assume most readers are aware of how these negative sentiments arose, but if not then looking up The Rape of Nanjing in an encylopaedia would be a good starting point).
I'm acquainted with most of the japanese foreign teachers, and I've befriended one guy called Nishida. He's a little over 30, and he taught literature at a high school in Tokyo before he came to China a year ago. He speaks chinese better than english, and of course I don't speak a word of japanese, so we communicate in chinese. At the end of last semester, he took me and one of his students to a japanese restaurant, and I discovered that there is more variety to japanese food than just sushi and noodles.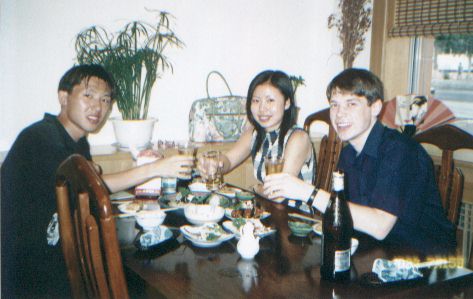 Twice since then, I've been out for dinner with a mixed bag of foreign teachers. On these occasions, english is usually the default language and I think Nishida is the one most out of his depth. In any case, I have been waiting for a chance to repay him for that dinner, so on Thursday we went to a chinese restaurant to stuff ourselves with seafood. I was hoping to surprise him with live shrimps, but he had already eaten them once before. And when it came to eating crab, we were giving each other pointers! I thought that japanese toddlers cut their teeth on seafood, but apparently in Tokyo it's rather expensive. Nishida says that in Japan he only ate real sushi once or twice a year (he doesn't include those fast food sushi bars where the plates circle on conveyor belt in the category of real sushi).
Well, I know that my grandparents are still not very fond of Japanese, and my great-grandmother especially so when she was alive. However, I think that successive generations have mellowed in their outlook, and fences do seem to have been mended somewhat, although of course, as you are staying in one of the most affected areas, it shouldn't be surprising at the anti-Japanese sentiment.

Chinese though, will still continue to do business and be genial with anyone, regardless of what they might personally think about the other party.
David Chan [homepage]
05.10.2003 , 21:51
Comments disabled. Sorry for any inconvenience.