Lifelog: Simple Life
This weekend has passed much like any other. Yuxiang and I sometimes go out if we're in the mood for it, or if we have some other excuse (we attended a talk on child labour Saturday morning). Otherwise I'll do some housework, read a book, or practise my Chinese characters. This morning I called and talked to my parents on Skype, as I now do every Sunday. It's a very simple and ordinary life.
I wasn't always satisfied with this, though. It wasn't long ago that you might instead have found me in front of the computer, engaged in one of my many spare time "projects" — a luxury, to be sure, but one I barely appreciated, feeling instead only a sense of urgency, of "so much to do and so little time". Nevertheless, I was resigned to this, and I approached my thirtieth birthday without any expectation that it would become a milestone in my life. To my great surprise it brought with it not only a change of career, but also a sweeping change in attitude. It was exactly one year ago that I wrote:
"I know that my letters have been a bit silent on the motives behind my new career change. This month I was originally planning to go into a bit more detail, but now I suddenly find this impossible...because I have started to question my whole philosophy in life!"
But of that particular journey, I will spare you the dreary details.
My work at "Technology for Change" is coming along well, and as slowly as ever. I work from home three days a week, and most of my time is spent on a volunteer project, developing a website which I hope will address in some small way the gap left behind when AIDS Action magazine ceased publication. A personal benefit from this work is that it has really got me interested again in software development as a profession. I've been reading broadly, not only getting familiar with some technologies that are quite different from what I use in my paid job, but also learning about the wider context of software development, from team management and programmer culture to design patterns and domain-specific languages. These are things I never even heard about at university, or on-the-job in Perth. How little I understood back then!
My blog about nonprofit technology in China, so very very niche though it is, has gained some readers and helped me meet some other people interested in the same topics. It's quite an exciting time, because we're just starting to see the emergence of a dialogue in China about how NGOs can use internet and computer technology. The inaugural Technology Innovation Award for Non-profits, sponsored by Intel, was a particularly significant milestone, and I was privileged to be present at the award ceremony in April.
The day after that ceremony, an earthquake stuck Yushu, in Qinghai Province. An aunt and uncle of Yuxiang's were living there at the time, but fortunately they were unhurt. Many of the buildings were reduced to rubble by the quake.
Back here in Beijing, the only minor catastrophe is that construction has started on the vacant block near our apartment. Tall cranes now stand between us and our view of the park, and the city to the south. It was with this in mind, as well as my new thoughts about living, that I read with some interest an announcement on an NGO website about a "Simple Life Retreat", to be held in the village of Xiwanzi northeast of Beijing.
Not knowing exactly what to expect, Yuxiang and I spent just one day and one night at the retreat, but it proved to be a wonderful escape from the city. The recent rain meant that we couldn't do any work in the fields (Yuxiang had her heart set on pulling out weeds), but it also brought us delightfully cool and misty weather for wandering in the surrounding hills. We saw hardly another soul while walking, and it was only standing there listening to bird calls and the gentle sound of water dripping from tree leaves that we realized what a din surrounds us every day in Beijing. We took part in some other activities at the retreat, including meditation and handcrafts, but the whole atmosphere was very casual and unhurried, and it was easy to relax and keep my mind in the present — because what good is a simple life, unless accompanied by simple thoughts?
News since my last lifelog:
I started learning Arabic, but soon gave it up.
I've started learning Mangghuer, the Mongolic language spoken by Yuxiang's family.
We celebrated Christmas at home, with an Italian panettone.
Yuxiang's parents, brother, and sister-in-law all came to Beijing to celebrate Spring Festival with us this year.
Yuxiang and I are playing badminton every week or so at the nearby Olympic Sports Centre.
Scenes from Xiwanzi
We were asked not to bring cameras to the Simple Life Retreat, and we didn't. During our walks, however, we couldn't help using my phone to snap a few shots of the scenery. The camp itself was perched on top of this hill:
Our walks took us mainly through farmland, with chestnut trees being a major crop.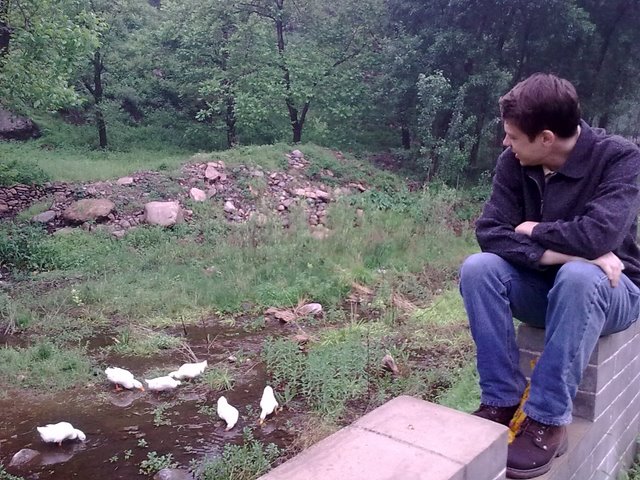 But all around we were surrounded by tall mountains.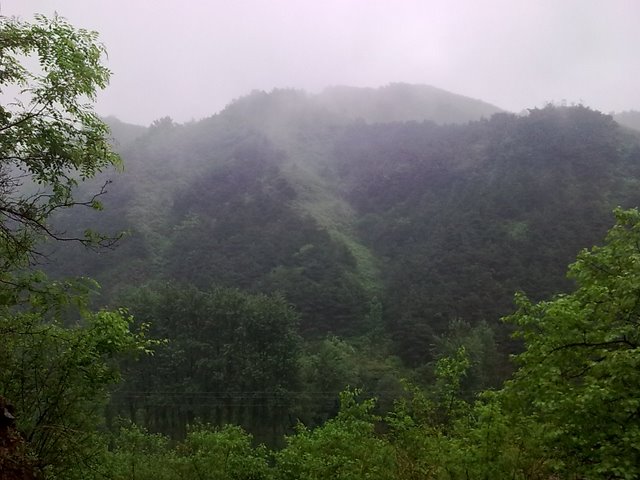 The Great Wall used to pass through this area, and some of the watch towers are still visible, such as this one: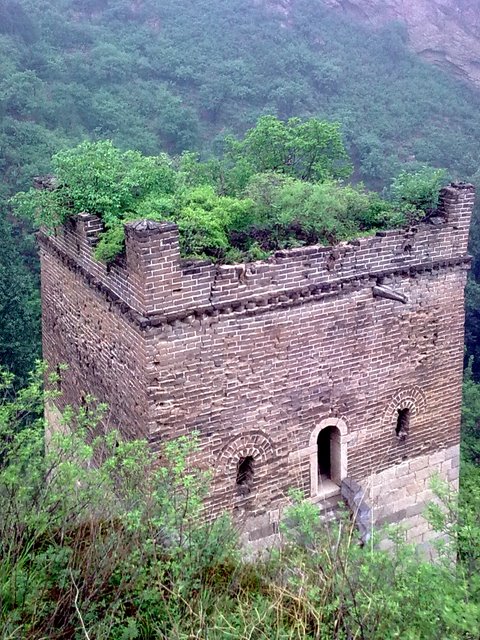 Perhaps one day we'll go back and explore further!
Comments disabled. Sorry for any inconvenience.