Journal: Spring Festival in Yangjia Village
The beginning of the yiyou* year on the lunar calendar is drawing closer day by day. At bustling street intersections, dragon arches have already been erected, red decorations along the main thoroughfares bring a festive atmosphere to the streets, and the crackle of firecrackers is telling us: the new lunar year will soon arrive! The new Spring is a joyous festival, but what kind of gifts should we prepare for our children? Will they be pleased with what we choose? What kind of gifts will stand out from the others? Parents once again start to face this difficult problem.
— Xihai Dushibao newspaper, 7 February 2005
Ask anybody in China, and they will tell you that Spring Festival is much more exciting in the countryside than in the cities. So this year I was very pleased to have the opportunity to celebrate Spring Festival with my workmate Yang Ying's family, in Yangjia Village. That name literally means "Yang Family Village", and indeed almost everybody there has the surname Yang. Altogether, I spent nine days with Yang Ying's family.
Like most of the homes in this part of China, Yang Ying's home is a square compound with high mud walls. Rooms are built along the insides of the walls as they are needed. Yang Ying's home already has rooms along three sides.
The north rooms of the family compound.
The household consists of Yang Ying, her parents, her older brother, his wife and son, and her younger brother. But Yang Ying, her father, brother, and sister-in-law have all been away from home for most of the year working, so this year's Spring Festival really was a time for reunion. And there were two guests: not just me, but also another friend of Yang Ying's and mine named Chen Tenghao, who was unable to return to his family in Guizhou Province this year.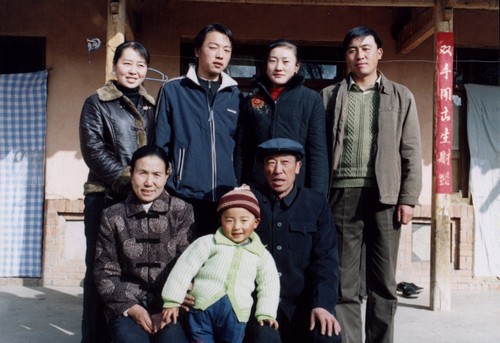 The family I stayed with (Yang Ying is on the left).
We didn't arrive in time to help with the preparation of food in the days leading up to the new year. Yang Ying's mother and sister-in-law had been busy making large quantities of niangpi (a kind of noodle that is eaten cold), various types of fried breads, and stuffing for baozi (steamed buns). But we were in time for me to help Yang Ying's brothers stick up duilian (couplets) on the day before the new year. The old year's couplets are torn down, and the new ones pasted in their place, on each side of the doorway. We had couplets for the main gate, the north room, the east room, and kitchen. When they were bought, the seller had penned the appropriate place on the back of each pair. However, which is the first line of the couplet and which is the second line is not always clear, so we usually had to ask Yang Ying (the only member of the family with a university education) for her opinion. The couplet is usually topped off with a shorter phrase above the door, and some of the families in Yangjia (including Yang Ying's family) hang a yellow paper triangle over the door as well. I asked if there was any significance to this triangle, but nobody seemed to know. On the front gate, posters depicting two door gods are also common.
Yang Ying's brother spreading glue on the door frame.
| | | |
| --- | --- | --- |
| | | |
| The front gate, showing the yellow paper triangle which I have not seen in other parts of China. | | A calligrapher writing duilian in gold ink. |
A widespead custom in China is eating jiaozi on new year's eve. In the afternoon I helped to wrap them. Then in the evening, we sat in front of the TV to eat. There wasn't good reception of CCTV, host of the biggest annual new year's eve show, so we watched the Qinghai TV station instead. They had a new year's eve show too, with Tibetan performances dominating the line-up, ranging from traditional to very modernised (how well the female performers' clothing covers their bodies is usually a reliable indicator of "modernness"). Following the jiaozi there was lots more food to see us through to midnight, but as it turned out everybody except Tenghao, Yang Ying, and I went to bed before that.
That evening, I also went with Yang Ying's brother to the village temple, to burn incense and paper money. Paper money does not not actually look like money, but these big sheets of soft yellow paper can apparently be used as money in the spirit world, after being burnt to transfer them to the "other side". However, I have seen some more realistic-looking paper money for sale as well, so perhaps the spirit world is going to switch currencies.
Someone from the family also has to visit the family graves, once on the last day of the old year and once on the third day of the new year, to light a fire (often of sheep dung, a common fuel in the area) and make offerings. I didn't visit the graves, but I did eat a sweet that had been used as an offering—I was told it would prevent me getting sick. The graves are scattered about the desolate hills close to the village. Many do not have headstones, but all have a place to light a fire and lay offerings. People also dig shallow trenches around the burial areas to divert run-off rainwater away from the graves.
Hillside graves.
The custom in Yangjia is that on the first day of the new year, the men of each family go to every house in the village to bainian (wish a happy new year). But with over 70 houses to visit, they don't have time to stay and chat unless they know the family well. What usually happened is that a group of well-wishers would rush in and head straight for the room where they knew the shenzhuo (holy table) had been set up: this is essentially a small alter with photos of family members who have passed away. The well-wishers would all bow three times before the shenzhuo, and then turn and leave as quickly as they came. I was sitting with the family in a different room, and when we heard people we would rush out and try to offer them alcohol, but they were often already on their way out by that time!
Shenzhuo. I think the stereo covered in red cloth just happened to be there.
The men all put on their new clothes to go and bainian. It's traditional to buy new clothes before Spring Festival, which is why many clever shopkeepers raise their prices at that time. Yang Ying's newphew Yongyong seemed particularly pleased with his new shoes. He acquired some new toys too, but those were just things that caught his eye at road-side stalls, not the kind of carefully planned gifts that the newspaper excerpt at the start of this article is talking about.
And then, of course, there is yasui money, money given to children at Spring Festival. Mainly it is received from adult relatives, but one might also give yasui money to one's friends' or workmates' children. In the past, children often had to kowtow before they were given the money, but these days the very most they have to do is wish happy new year! In Yang Ying's family, the amount given ranged from 2 yuan to 10 yuan. But in a white collar city family, the minimum would probably be 100 yuan. That's a significant amount of money, although whether the child can keep it or not is another question: one of my friends told me that when she was young, she always had to give the money to her parents. This would have approximately balanced out the yasui money they gave to other children. As many of you may know, yasui money is often presented in red envelopes, but that may also be a difference between the city and the country because all of the yasui money I saw was just given as is. Children usually continue profiting from Spring Festival until they get a job or marry, after which they stop receiving yasui money and have to start giving!
On the second day of the new year, young married couples visit the wife's family. Anyone who has tried to cram visits to both sides of the family into a single Christmas Day will probably see the wisdom in this chinese tradition. From this day onwards, the general visiting also begins: to relatives, friends, teachers, and so on. The women are kept constantly busy, preparing food for visitors. No matter what time of the day you visit, you will be fed a meal, and in Yangjia this often included a tasty claypot stew. One day I rode with some of Yang Ying's relatives in the back of a pickup truck, to visit relatives who lived further away. I lost count of how many meals I ate that day. This visiting period continues for a week or more. During the first few days, I thought it was rather badly arranged: the men would often be out visiting, while the women were busy in the kitchen, meaning that people who came to bainian would have plenty to eat but nobody but themselves to talk to. However, as the days went by it became less hectic.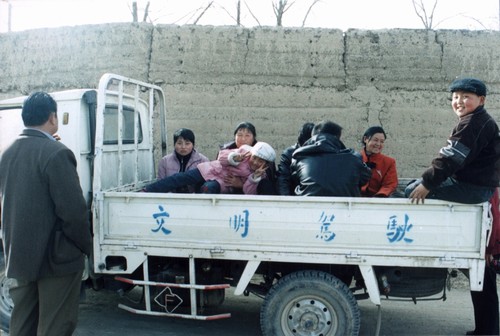 The Yang-mobile. I've just noticed that the wording on the side says "civilised driving".
I think food and family are the main ingredients of a Yangjia Village new year. Not everybody takes part, however. If a family member has passed away during the year, the family basically does not celebrate Spring Festival. They don't go visiting relatives, and nobody comes to visit them. They do stick up new duilian, but instead of red paper they use either yellow or green paper.
Another Spring Festival custom is that you shouldn't sweep the courtyard on the first two days of the new year (sweeping inside the rooms is okay, though). I liked the way Yang Ying's mother explained this: she said many of the family members had been away during the year earning money, finally returning at Spring Festival, so sweeping would be like sweeping this wealth and good fortune out of the house. However, on the first morning of the new year I momentarily forgot this rule: one of the family's lambs has to be fed on bread because its mother isn't giving milk, and when they carried it in it scattered droppings over the courtyard. I grabbed a broom and started to sweep, but Yang Ying came rushing out of the house to remind me not to. And yet, the next day I found Yang Ying sweeping! "It's just too dirty," she explained, adding that she had already discussed it with her mother.
Yang Ying's family were all very friendly, but my biggest problem was trying to understand what people were saying. They usually spoke the local dialect, which is not too far removed from Mandarin but for me 90 percent incomprehensible. I did learn a few phrases though.
But the question remains, assuming that this was a typical village new year, is Spring Festival in the countryside really more exciting than in the city? That depends on who you are. For me, visiting somebody else's relatives was certainly interesting, but I wouldn't go so far as to call it exciting. But for Yang Ying who hadn't seen most of those people, including her father, for almost a year, I'm sure it was a happy time. Yang Ying also told me that when she was younger, she thought the best thing about Spring Festival was that there is so much food. Village families can't often splurge on fancy foods or restaurant meals, so I can see why a child would look forward to Spring Festival for this reason. The truth is that new year in Yangjia was not much different from the city: visiting family and friends, eating, drinking, and perhaps watching a colourful dance (the nearby county seat hosts cultural performances on the eighth day of the year). I suspect that the difference is that city families often enjoy these things during the year, whereas for country families it is a much rarer treat, so of course more exciting.
Performers from Dashijia Village. Disappointingly, Yangjia Village was not represented this year.